Liens sur le Mongy -

Links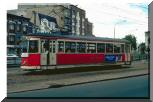 Le serveur européen des chemins de fer a une dizaine de photos du Mongy
On the European Railway Picture Gallery, a few pictures.
Le site de Transpole, la société qui exploite le Mongy en l'an 2013, avec plan des lignes et horaires.
On website of the Lille Public transport company ( Transpole ), your find line maps and timetables.
Photos sur le site de l'AMTUIR.
Pictures on website of AMTUIR.
Un article sur le site de l'Association FACS - an article FACS website
Une page sur les tramways lillois à voie normale - a page about normal gauge tramways in Lille
Une page sur Alfred Mongy
nouveau galerie de Johannes J Smit (en 1980)
---